Painting is my passion and a necessity in life.
The musical language of watercolor is closest to my heart. I find my inspiration mostly in nature, where open sea meets the shoreline or where light dances between trees and foliage. The landscape found in faces of humans or animals fascinates me as well.
In my process I work with pigments and a lot of water, feeling it in my body when I´ve found the picture.
The ever changing light and subtle atmospheres interests me. I prefer the large formats, where I control the pigments with wide brushes and plenty of water, and I love to be surprised by the watercolor's own ability to live.
For more information about my projects and courses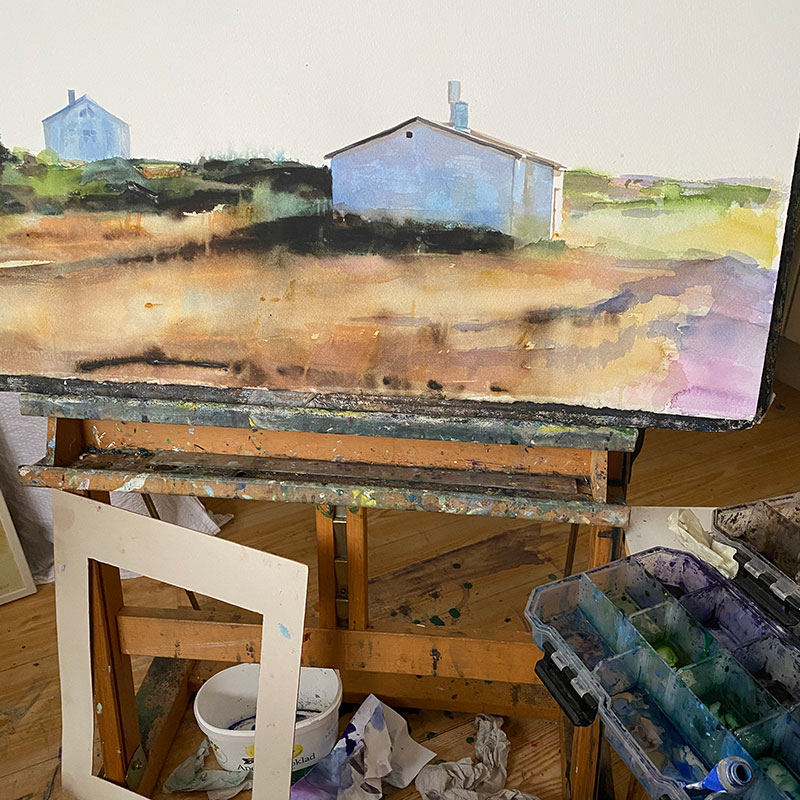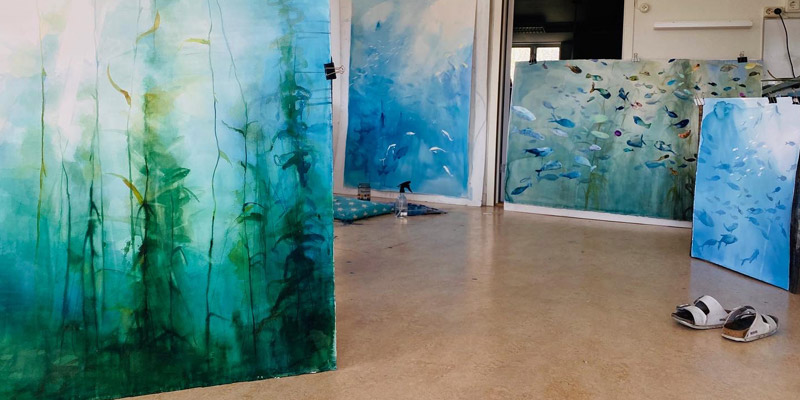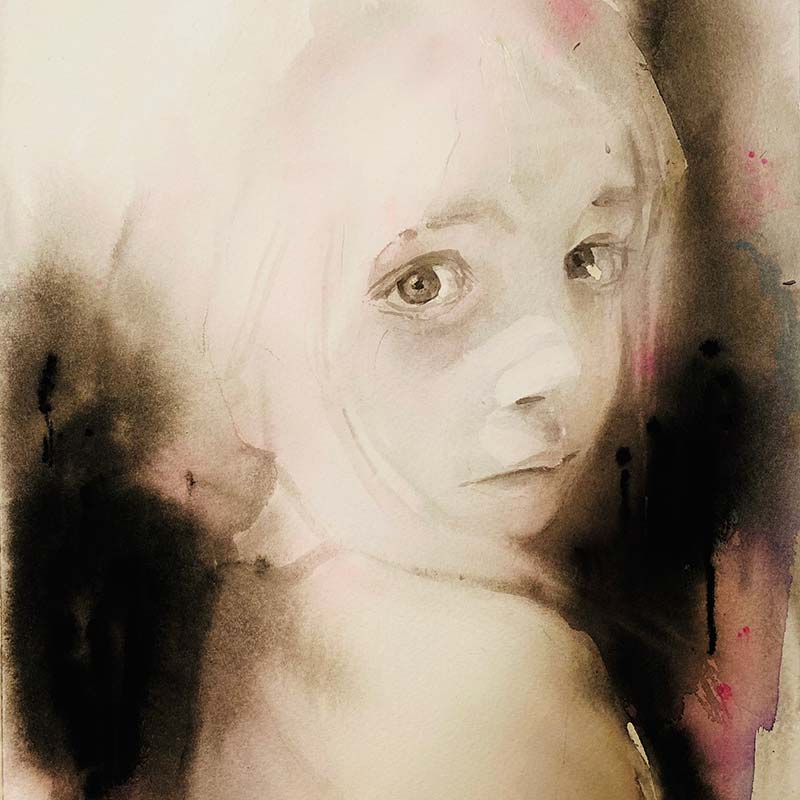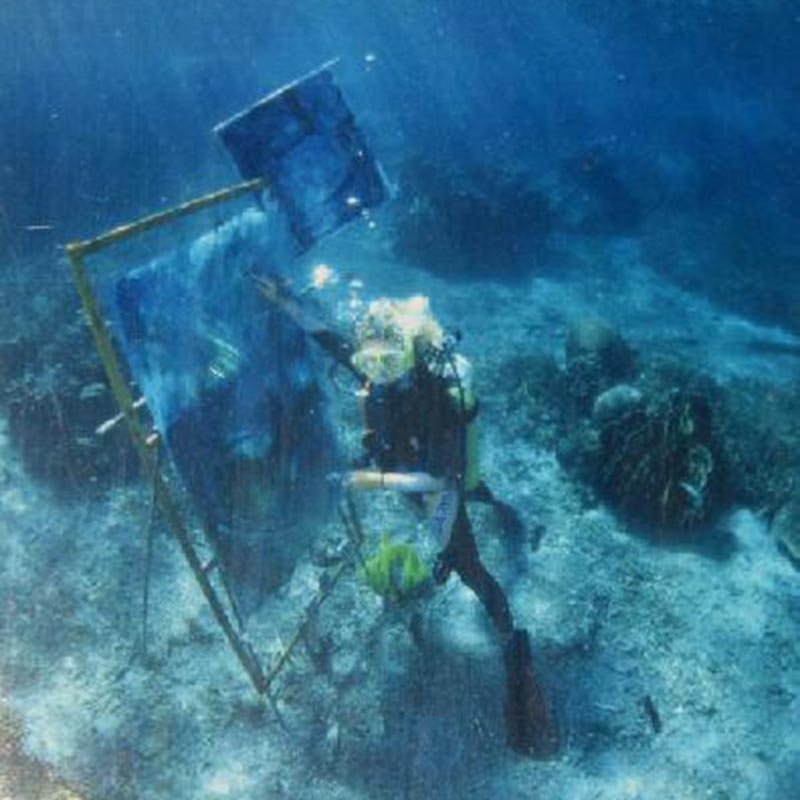 Separate exhibitions in selection
In Your Face, Ålands konstmuseum, maj – sept -22
4 temperaments, Nordens Institut, Åland, juli – aug -22
Winterviken Stockholm, mars – april -21
Stallarholmen's Art Gallery with Ann Larsson-Dahlin, nov -19
Ålands Konstmuseum, Mariehamn -19. Tillsammans med skrotkonstnären Johan Karlsson
Galleri Skarpans -19
Galleri Rödhamn -17, -18
Galleri Rosella, Mariehamn -16
Galleri Lilla K, Norrtälje Stadsbibliotek -16
Galleri Fallera, Lidingö -14
Galleri Fallera, Lidingö -14
Nishaville Resort, Thailand -14
BA Event, Bryssel -13
Rödlögaboden -13
Arholma Båk -12
Österåkers Konsthall -12
Galleri Svea, Stockholm -11
Galleri Skarpans, Åland -11,-14
Galleri Rödhamn, Åland, varje sommar från 1998 – 2017
Konstnärernas Höstsalong, Kistamässan, Stockholm -10
Hallstaviks Konsthall, -09
Skeppargården Pellas, Åland -09
Eckerö Post & Tullhus, Åland -09
Galleri Skarpans, Åland -08
Åkersberga sjukhus -03
Galleri Ängelsbergs brukshandel -03
Galleri Stenlund, Stockholm -03
Galleri Skarpans, Åland -00
ABN AMRO Bank, Stockholm -00
Galleri Stenlund, Stockholm -99
Galleri Rödhamn, Åland -98 -02
Bergendahls Konsthall, Hässleholm -97
Åkeshofs Slott, Stockholm -97
Galleri Diana Huset, Norrtälje -96, -98
Turneffe Island, Belize -93, -94
Nordbanken, Norrtälje -89
Galleriet, Hallstavik -87
Jury awarded / Collection exhibits in selection
ECWS i Bilbao, Spanien, sept – okt -22
Mitt Blåa Åland, Mariehamns stadsbibliotek, jan – mars -22
Gamla Kraftstationen Deje, december -21
Winterviken Stockholm, Summer exhibition -21
NAS juried Internet exhibition -21.
Konstrundan Åland sept -20
Winterviken, Stockholm Winter exhibition -19
Inbjuden till Watercolor Biennial 2:nd edition, National Museum of Kosovo. November -19
Inbjuden att delta i Royal Watercolor Society exhibition, Wales dec -19
Inbjuden att delta i Acqua di Colore på Edsvik Konsthall Sollentuna tillsammans med ca 20 internationella akvarellmålare. Mars -19
Höstsalong Edsviks Konsthall -18
Fabriano in Acquarello, Italien -18
Väsby konsthalls jurybedömda akvarellsalong -17, -18
NAS exhibition Reykjavik, Iceland -17
ECWS exhibition Salamanca, Spain -17
Galleri Kobba Klintar, Åland -16
Gamla Kraftstationen, Deje -16
NAS Akvarellsalong Hillerod, Danmark -16
Nationell Salong Akvarell, Edsviks konsthall -16
Bela Biennal, Brazil -15
"Football meets Art", AVA Galleria, Rio de Janeiro -14
Kröhns, Väddö -13
"Vattenburen", Edsviks konsthall -12
Carrousel du Louvre, Paris -11
Norrtälje Konsthalls jurybedömda julsalong -07
Nordisk Akvarell jurybedömda akvarellsalong, Ronneby, Umeå, Sollentuna -07
Väsby Konsthalls jurybedömda akvarellsalong -05
Väsby Konsthalls jurybedömda akvarellsalong -03
Norrtälje Konsthalls jurybedömda julsalong -02
Lions Vårsalong, Rimbo -98, -99, -02
Världsutställning L´image sous-marine, Juan Les Pins -98
Juryuppdrag för Väsby Konsthalls akvarellsalong sept -21, Upplands Väsby
Årets konstnär under Konstrundan Åland /Åboland. Film för Konstens fredag sept -215 st postmärken på uppdrag av Posten Åland -19
2 st frimärken för Posten Åland -18
Skapande Skola projekt -16, -17, -18
Tilldelad Årets Akvarellstipendium, Väsby Konsthall -17
Litteraturstipendium, Ålands Kulturdelegation -09
Litografi på uppdrag av Galleri Diana Huset -95-98 -99-00
Litografi på uppdrag av Norrtälje hantverkarförening -97
Litografi på uppdrag av Rotary, Norrtälje -96
Stipendie för Atlantenseglats, Oceanwide Expeditions -95
Norrtälje Konstförenings ungdomsstipendiat -90
Europafrimärke på uppdrag av Posten Åland -11
Frimärke och utställningskort på uppdrag av Posten Åland -09
Utgiven Akvarellbok -08
Nordiska Akvarellsällskapet
Norrtälje Konstnärsgille
Konstfack -15, Pedagogik och ämnesdidaktik för konstnärer